Enrolling your child in Pre-K is one of the best gifts you can give your child. In Terrell ISD, 90% of students who attend Pre-K at W. H. Burnett Early Childhood Center are considered ready for kindergarten compared to those who do not attend. Research shows that the road to college, career, and military readiness begins in early childhood.
While in Pre-K, your child will develop language and literacy skills along with fine motor, social and cognitive skills. They will also learn numeracy skills such as how to count objects and recognize numbers. Pre-kindergarten also promotes brain development and improves emotional learning. All of these skills will help your child to become kindergarten ready.
Ready to become a little Tiger? Let's Go!
**Please Note: Spots are limited and will be filled on a first-come, first-served basis.**
If you are enrolling a NEW student you will be prompted to create a username and password before beginning the enrollment process within Parent Portal. Refer to "Step Two" in the Steps to Enroll below for a guide on how to create a username and password.
If you are enrolling a returning student, simply log in with your username and password to begin the enrollment process.
If you are unable to remember your username and password, please contact W. H. Burnett for assistance at 972-563-1452.

Terrell ISD will host an in-person Enrollment Assistance Night for those parents needing help filling out the online application and uploading the required documents.
Thursday, April 13 | 5-7pm
W. H. Burnett Early Childhood Center
921 S Rockwall Ave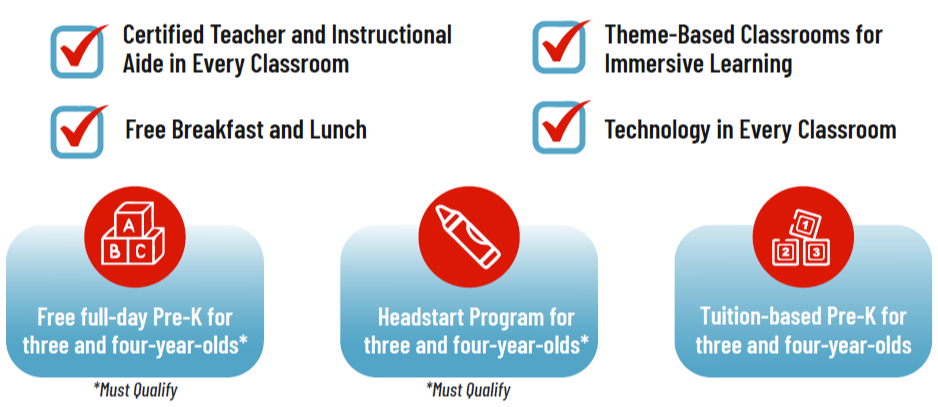 How does my child qualify for Free Pre-K?
Children may attend Pre-K in Terrell ISD for FREE if the parent/guardian is a Terrell ISD resident, the child is three or four-years-old by September 1 and the child meets one of the following criteria:
Eligible for free or reduced lunch

Eligible for SNAP and/or TANF

Qualifies as an English Language Learner

Homeless

Qualifies for Medicaid

Currently or has ever been in the foster care system

Dependent of active military service member, member who was injured during active service or is the survivor of a member killed in active service

Dependent of first responder who is a recipient of the Star of Texas Award
Students who do not qualify for free Pre-K may register for tuition-based enrollment. Terrell ISD charges a monthly tuition fee of $262.50.

1- Gather Required Documents
Birth Certificate

Social Security Card (Optional)

Photo ID of the person enrolling new student

Immunization Records

Proof of Residency- Water or electric bill in guardian's name or Lease/mortgage agreement in guardian's name

Proof of income documentation

Foster documentation (if applicable)
For visual samples click here.
2- Create a Parent Portal Account
In order to register your child, all parents must create a Parent Portal account. Additionally, Parent Portal is where you will check your child's grades and attendance. Below is a guide to help you create a new account along with the link to Parent Portal to get started.
3- Fill Out and Submit the Online Application
Once you have created your Parent Portal account you will then fill out the W. H. Burnett online application which is housed within Parent Portal.
Click here to begin the online application.
**Parents, please be prepared to receive and accept communication from WH Burnett during the enrollment process.
Staff will be checking applications as they come in and may need to contact you if they need further information before the enrollment and eligibility is complete. The information they will use to contact you will be the email address and phone number you entered in Parent Portal. Please ensure your contact information is correct.
4- Receive Acceptance Letter
Your child's seat is not confirmed until you have received an official acceptance letter.
Out of District Transfers
W. H. Burnett will not be accepting applications for out of District transfers until May 1.